Description
The versatile fun machine (EN/LTF A)
Wherever you go
Ibex 4
Light, high performance, fast, uncomplicated, safe and just pure fun: the IBEX 4 is a versatile, super-lightweight paraglider (from 3.0 kg) with a multitude of uses and an extraordinarily wide weight-range. It is suitable for hike & fly, travelling, recreational flying, mountaineering, flying under instruction and strong-wind soaring.
Complete suitability for everyday use. The IBEX 4 is not a lightweight design pushed to the absolute limits. Materials, details and design make it perfect for everyday flying. And of course it comes with the full NOVA guarantee package. You can use it as your everyday wing without any problems.
Amazing performance. We compared the IBEX 4 with the PRION 3 and discovered that with the same wing loading it glides better. And our team pilot Robert Schaller flew a 209 km FAI triangle on a PRION 3! The IBEX has the potential for such flights built in!
Tip: using the IBEX 4 for instruction. Easy launch characteristics and low weight make the IBEX 4 a training slope favourite. Then you can continue to use it as your first wing. When you progress, you will want to keep it as an additional wing for travelling and hike & fly.
Concept – a complete new design
Of all the NOVA glider models, the IBEX 4 is the most versatile. The IBEX 4 is light with a small packing volume and offers the safety of an EN/LTF A-wing as well as very good glide performance for its classification.
In comparison to its predecessor, the IBEX 4 is a completely new design. It has been built using Diagonal Tape Ribs. Sewing these force vector optimised diagonal ribs requires more effort and high manufacturing precision, but they ensure a cleaner profile. This means the IBEX 4 performs better and feels very compact and balanced in the air. It is solid in flight and is really fun to fly.
Target Group and Uses
Due to its very high level of passive safety, the IBEX 4 has been certified EN/LTF A across a very wide weight-range. It is therefore suitable for numerous uses.
Hike & Fly: low weight, small packing volume, simple launch characteristics, good performance, The IBEX 4 is a reliable partner in the mountains.
Recreational flying: the IBEX 4 is simple to launch, turns wonderfully and offers a high level of passive safety. Exactly what is needed for relaxed thermalling.
Travelling: there is little room in luggage and usually there are weight restrictions. At the destination, safe and wonderful flights are usually the gaol, rather than record-breaking endeavours. Perfect for the IBEX 4.
Instruction: easy take off characteristics and low weight make the IBEX 4 a training slope favourite.
Soaring: Flown at the top of the weight-range, the IBEX 4 offers a lot of fun flying in strong winds – whilst retaining a high level of passive safety.
Cross-country: in general, EN/LTF A wings are not primarily designed for cross-country flying. But the performance of the IBEX 4 is so good that cross-country flights can be undertaken without problems.
For additional queries, your NOVA dealer will be happy to advise on the correct wing and wing-size.
Weight-ranges
The IBEX 4 has been certified as an EN/LTF A wing in all sizes and weight-ranges. However, wing-loading does have a bearing on speed, sink rate, handling and how it feels in the air.
We recommend:
Relaxed = low wing-loading: for best sink rate and calm flying behaviour.
Standard = medium wing-loading: recreational flying, longer thermic flights and/or cross-country.
Dynamic = high wing-loading: flying in high mountains (when flying down and "getting off" are priorities), strong-wind soaring (e.g. at the coast) or generally more dynamic and higher speed.
Launch characteristics: extremely easy!
Whether you are launching from rough, alpine terrain when on a hike & fly tour or during your normal paragliding training day, simple launch characteristics are essential. From the simplicity with which the few lines are sorted to the ease of inflation. Just a light tug is enough and the wing climbs evenly above the pilot, without the tendency to overshoot.
The super-thin, sheathed PPSLS 65 lines make sorting them on the ground easy and they cause less drag in flight.
Useful information
Everything you need to know about the IBEX 4:
Low weight: the IBEX 4 is a very light wing (XS: 3.25 kg, 70–100 kg all-up weight) and amongst the safe lightweight wing class it has very good glide performance. The IBEX 4 glides better and flies faster than a single skin wing.
Simple is best: we have used as few lines as possible; all the main lines are sheathed. The ground handling and flying characteristics have been designed for maximum controllability.
The super-thin, sheathed PPSLS 65 lines make sorting them on the ground easy and they cause less drag in flight.
Fully guaranteed: one year of NOVA Protect, three years of guarantee. This is extended to four years if an NTT is performed.
NTT inclusive: pilots from Germany, Austria or Switzerland who register their wing at myNOVA within 14 days of purchase are entitled to our unique NOVA Trim Tuning – free of charge.
Compression Bag
The IBEX 4 is delivered with our popular Compression Bag instead of a traditional backpack. This noticeably reduces the packing volume and gives it a practical flat shape. The Compression Bag is also completely waterproof and protects the wing from moisture and sweat – very useful on vol-biv or hike & fly trips. Pack the wing as small as possible, place it in the compression bag, squeeze out the air, close the bag and use the valve to expel the remaining air.
The Compression Bag also protects the wing from body sweat, which can damage the coating of the cloth.
Please note: Never store the wing in the Compression Bag permanently. For this purpose we provide the conventional pack sack, which is also included with the IBEX 4.
Impressions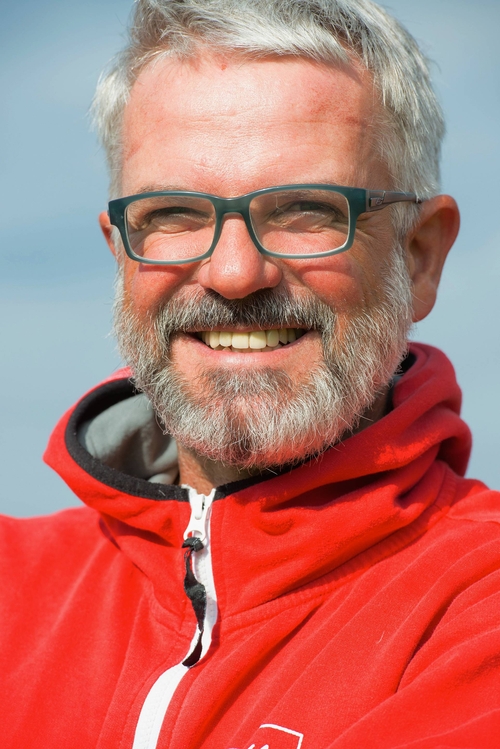 NOVA Team Pilot Werner Luidolt has undertaken many flights on a prototype IBEX 4 in France and Italy. He also knows the IBEX 3 very well:
"The IBEX 4 is super-easy to launch – especially on difficult, windy or tight take-offs. A really clear improvement are the new diagonal tape ribs. They ensure a much smoother flight and a more compact wing. The IBEX 4 is a real feel-good package for relaxed "hanging out" in the air, combined with surprising performance!"
Colors
Technology
Technical Data
Materials
Service
Every NOVA paraglider comes with a big package of extra services and guarantees. When you buy the wing you get more than just the product1.
Scope of Delivery
Features